The fuel available with the name CNG (Compressed Natural Gas) is based on natural gas. It is available in Germany in two forms:

H-gas: High calorific gas = higher energy content


L-gas: Low calorific gas = lower energy content

The higher energy content of H-gas allows for longer ranges than with the same quantity of L-gas. By 2029, the majority of 'L-gas' regions, which are primarily found in the north and west of Germany, will also be switched to H-gas.
Difference between natural gas (CNG) and Autogas (LPG)
Primarily composed of methane, natural gas is the hydrocarbon compound lowest in carbon. It is lighter than air, escapes upwards and evaporates accordingly. This means that in principle, vehicles with a natural gas drive are permitted in any underground car park in Germany, according to the regulations on parking garages in the individual German states.
The energy content of a kilogram of natural gas (H-gas: 14 kWh/kg) is the equivalent of around 1.5 litres of petrol or 1.3 litres of diesel. Natural gas contains almost twice as much energy as liquefied petroleum gas (7 kWh/l).
Unlike natural gas (CNG), Autogas (LPG) is a by-product of oil and natural gas extraction and heavier than air. This means that there is a risk of gas collecting on the ground or in recesses. This means that it is often not permitted to park LPG vehicles in underground car parks.

See also:
Natural gas vehicles
CNG (Compressed Natural Gas)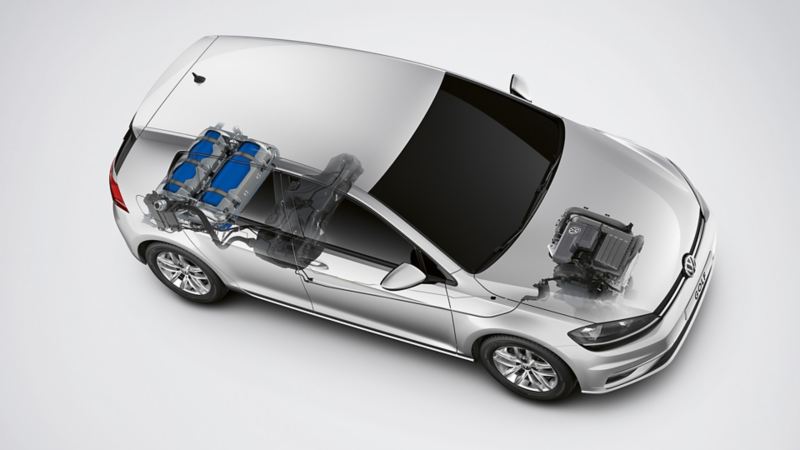 Volkswagen offers vehicles with natural gas drives under the TGI (and eco up!) names.
All engines are optimised for running on natural gas. This reduces consumption and has a positive impact on emissions. Natural tanks are integrated as compact underfloor solutions and only slightly limit variability and interior or loading volume slightly.

See also:
Natural gas
TGI
CNG (Compressed Natural Gas)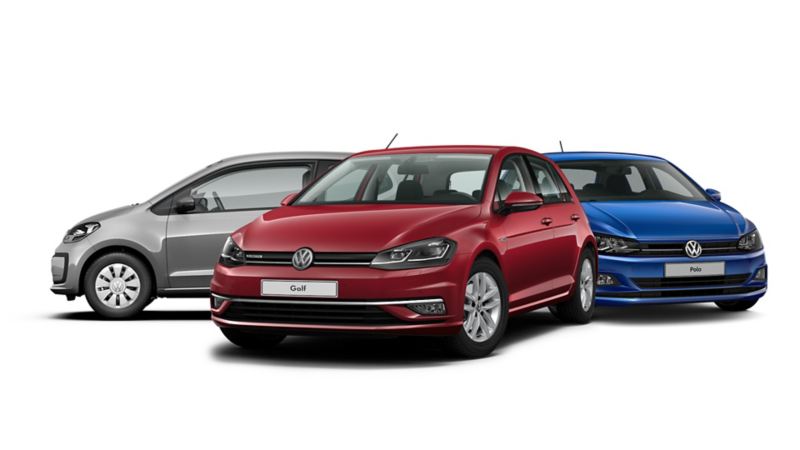 "Volkswagen Naturstrom®" is a protected trademark in 28 EU countries. Essentially Volkswagen defines the quality criteria for Naturstrom as follows:

The current must be 100% CO2-free


The Naturstrom must be generated 100% from renewable sources


The electricity either needs to be own-generated or be "Guarantee of Origin" electricity, i.e. the electricity is bought coupled with its Guarantees of Origin and from countries in which there is physical delivery capability.

Elli also solely offers Volkswagen Naturstrom®.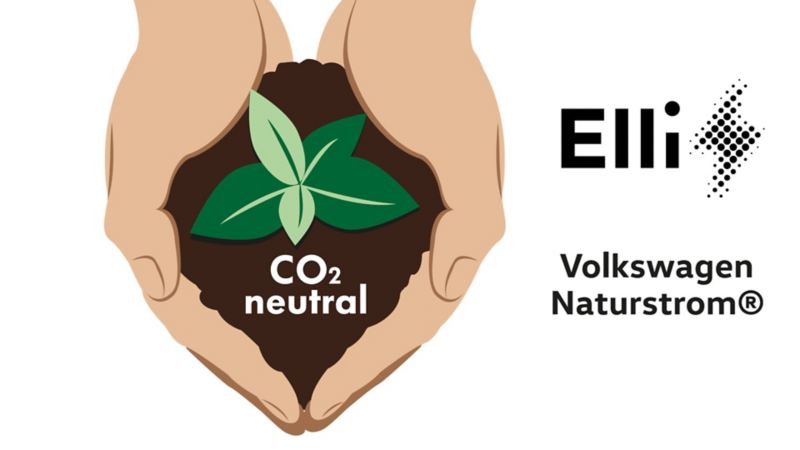 NEDC stands for New European Driving Cycle and refers to a test procedure that has been used across Europe to record vehicles' exhaust gas emissions and fuel consumption since 1992. The NEDC applies to all passenger vehicles and light commercial vehicles.
The NEDC test method was replaced by the WLTP test method in September 2017.
NEDC driving cycle
In a driving cycle, a vehicle is run under set conditions in order to determine its fuel consumption and CO2 emissions. The exhaust gas levels measured are a part of the manufacturer's specifications for the approval and sale of vehicles. Conditions specified for a driving cycle include start temperature, speed, load and the beginning of exhaust gas measurement.
The standardised NEDC driving cycle is run on a test roller from a cold start and lasts around 20 minutes. A driving cycle consists of 13 minutes of simulated urban driving and 7 minutes of simulated cross-country driving (max. 120 km/h). The temperature in the test chamber must be between 20 and 30 degrees Celsius at the start of the test. The NEDC includes a running resistance measurement, measuring roll resistance, drag and loss of friction. These values are used in the calculation of the end result.
The vehicle's emissions are captured and analysed as part of the test. The carbon dioxide emissions measured can be used to calculate the exact fuel consumption. 26 seconds are available in the driving cycle for acceleration from 0 to 50 km/h. The switching points for each vehicle are set out depending on this time.
The legislator prescribes standardised test procedures for the type testing of new vehicles. They measure exhaust emissions, consumption and CO2 emissions, as well as the range with electric vehicles. In the past, this was done in the EU on the basis of the New European Driving Cycle (NEDC). The latter was superseded in September 2017 by the WLTP (Worldwide Harmonized Light Vehicles Test Procedure).
In the Night Vision system, an infrared camera has a view of around 130 metres ahead of the vehicle. This can detect heat emitted by bodies.1 The corresponding thermal image is shown in the instrument cluster or optional Digital Cockpit.1 The system issues a warning if the situation is critical.1 In this way, it offers an additional source of information that helps the driver detect a person or, for example, a deer on the road – particularly when their view is impeded by fog or rain.  This may help react to hazards earlier.
1 within the system's limitations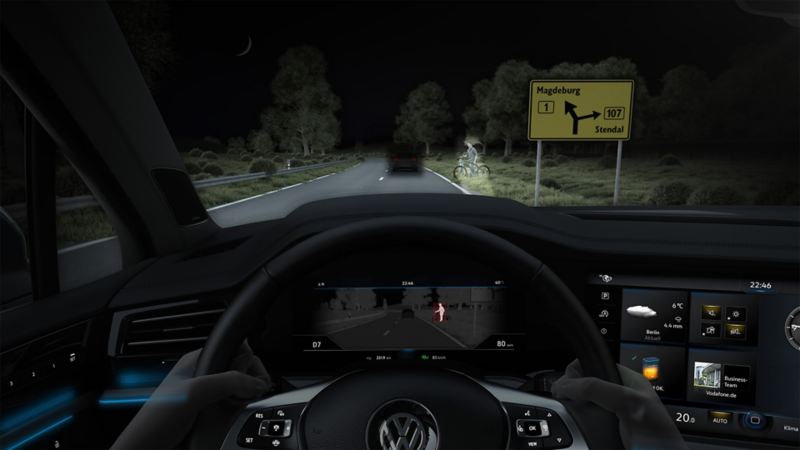 NOx exhaust gas treatment 

In NOx exhaust gas treatment, combustion gases are treated once they have left the combustion chamber by catalytic or chemical means. Depending on the emission standard, vehicle weight and motorisation, an NOx storage catalytic converter (NSC) or SCR (selective catalytic reduction) catalytic converter is used.
Due to current NOx limits for diesel engines from the EU6 emission standard, NOx-reducing exhaust gas treatment is required in almost all vehicles.
See also:
SCR catalytic converter
NOx storage catalytic converter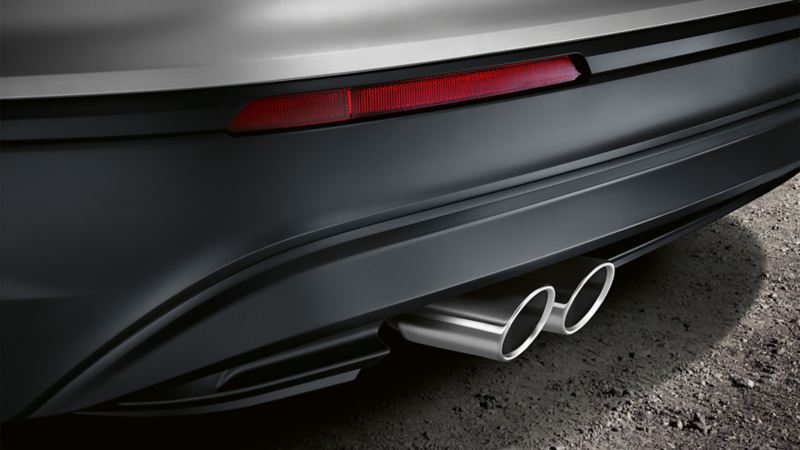 NOx storage catalytic converter 

In the NOx storage catalytic converter, the nitrogen oxides are continually deposited on a storage surface that mainly consists of a barium compound.
If the catalytic converter has reached the final load level, it is regenerated. The nitrogen oxides are removed from the storage structure and converted into nitrogen (N2) and carbon dioxide (CO2) components. NOx withdrawal and conversion take place separately. To begin regeneration, air deficiency is set (λ < 1). The reducing substances used are the exhaust gas components carbon monoxide (CO) and hydrocarbons (HC).
See also:
SCR catalytic converter