Well prepared on the road: Our tips for going on holiday by car and packing safely
Well prepared on the road: Our tips for going on holiday by car and packing safely
Your trip should be just perfect. We think so, too. Our tips will enable you to make ideal preparations for yourself and your Volkswagen.
More weight – less control
An overloaded car skids more easily and is more difficult to steer and brake. No need to worry: Our checklist will ensure that you don't let it get that far.
Checklist:
Read up on the permitted total weight in the vehicle registration document or your Owner's Manual

Take your passengers' weight into account

Weigh heavy luggage, observe permissible load

Balance! Distribute the weight evenly

Increase tyre pressure if you have a lot of luggage

Adjust your headlight setting (see Owner's Manual) 
* Our checklists do not claim to be complete and are therefore not exhaustive.
Seats as supports

Don't fold the seats over. They are an important support – best bolstered by diagonally buckled belts.
Create space for yourself
Secure sports equipment, such as skis or bikes, on special carrier systems or in a roof box.
A grille for high stackers.
Use a robust luggage compartment grille if you load above the height of the rear seatback.
Heavy things at the bottom – light things at the top
 Pack heavy things at the bottom and, where possible, directly against the seat back. Light things go on top.

Keep the back free
Don't place objects over 25 kg on the rear seat or behind people, but preferably in the footwell. Make sure that no luggage is unsecured.
Keep important items within reach
High-visibility vests, a first-aid kit, a warning triangle and other important items should always be within easy reach.
A few grams -  Full force in the event of an impact.

Even if you have a collision at just 50 km/h, unsecured objects will fly forward with about 50 times their weight.
Off to a good start: check

The countdown is on. Five minutes to go to the start. The perfect time to think again: Have you got the most important things on board and is the house well prepared? Our checklist enables you to keep tabs on everything and allows you to have much more space in your mind to look forward to the journey.
Everything that is important for your health in pocket size: A good first aid kit means that you are ideally prepared for small and major challenges when on the road. We reveal how to equip your small pharmacy before starting out and everything that needs to be included.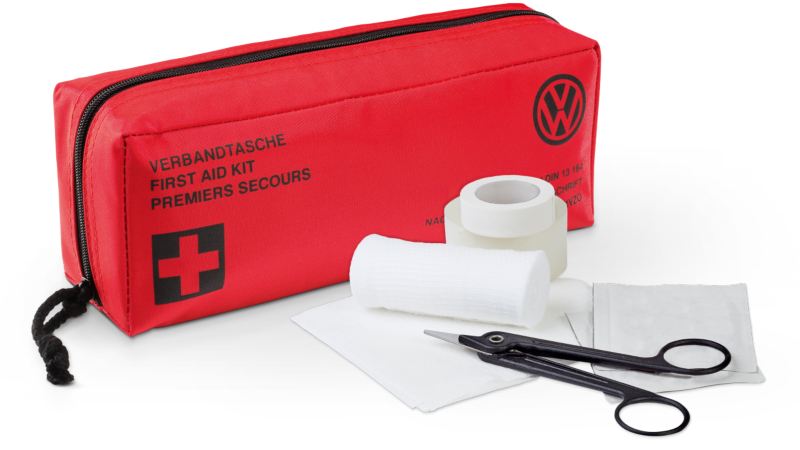 Have you included everything?
Anti-allergy medicine and calmatives (stings, jellyfish contact, sunburn)

Plasters, gauze and elastic bandages

Cough and sore throat medicine
* Our checklists do not claim to be complete and are therefore not exhaustive.
This is how to find the right sitting position. More comfort. Reduced risk of injury. Little effort. With the right sitting position you are travelling more comfortable, relaxed and at the same time safer. So quickly check, if everything is perfectly in place.
Vehicle Safety Check - Safety with a certificate and in next to no time.
We check your Volkswagen from the engine through to the brakes – in the Express Service as well. Result: Good value retention.. And, of course, the good feeling that comes from being safer on the road.
More room for the important things
Transport systems from Volkswagen – please contact your dealer for further information.