Get there safe and relaxed: Travel with kids, animals and abroad
Get there safe and relaxed: Travel with kids, animals and abroad
With our tips, you'll always be well prepared for a journey with both your little and four-legged travel companions, at home and abroad. Find out more about the right child seat, the best accessories for your four-legged friend, and information on your dream destination.
A safe journey with a child seat
For small passengers under 12 years of age and 1.50 m. A child seat must be included. A child seat must be included. Anyone who ignores this not only risks a fine– but much more importantly, the safety of his or her child.
In the event of an impact, a force of 750 kg acts on a child weighing 30 kg even at a speed of 50 km/h.

Secured children have a 7 times lower risk of an accident.

Even the smallest tear is a big risk, so it is best to buy child seats new – or from relatives or friends whom you trust.
Maximum safety for the kids.
Every age has its own special needs, which is why we've developed a child seat for every age. With a high level of comfort and easy handling, each seat is a winner, and exceeds the requirements of the ECE-R44/04 regulation.
Even the longest journey becomes child's play like this.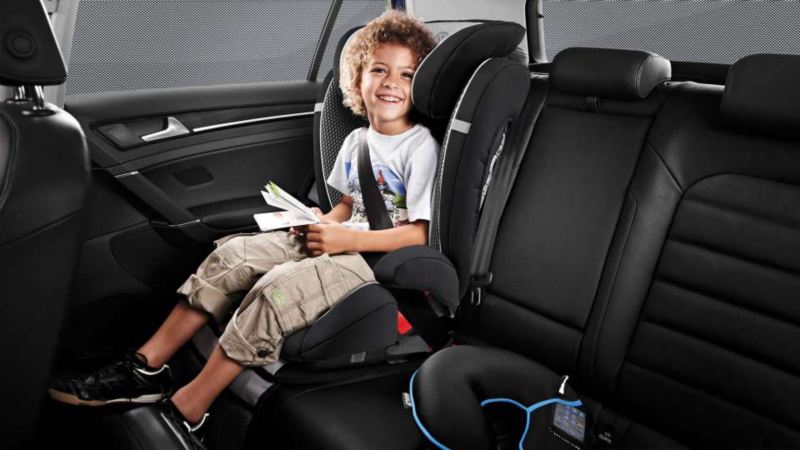 A favourite cuddly toy, Max, something to drink and some nappies: What is it best to take with you when you go on long journeys with your wee ones? We have compiled a brief checklist for you. Like this, you will quickly have everything in the car – and a whole load of fun in the luggage.

The following should be taken*:

First-aid kit and emergency numbers
 *Our checklists do not claim to be complete and are therefore not exhaustive.
Ideal protection – even against complicated fitting.

Your child has different needs at every age, be that falling asleep gently or having enough elbow-room to play. That's why we have also developed a different child seat for every age group.

What distinguishes Child Seats from Volkswagen Accessories?
Child seats from Volkswagen Accessories provide ideal protection even in the event of a side-impact, even surpassing the requirements laid down in standard ECE-R44/04. And thanks to the ISOFIX anchorage system, they are a perfect fit for your Volkswagen and are – click – quickly and securely installed. Even if, now and then, all hell breaks loose.
Find the right Child Seat.
On the road with animals.

Animal luggage
Socks, shoes and your snack for between meals – your four-legged friend is sure to find the content of your suitcase yummy as well. But it needs its own luggage, of course. Our checklist prepares you optimally for your journey with your animal.
The following should be taken*:

Name tag with contact details
* Our checklists do not claim to be complete and are therefore not exhaustive.
Everything well stowed.
Luggage Compartment Solutions from Volkswagen Accessories.
Five tips for four-legged passengers.