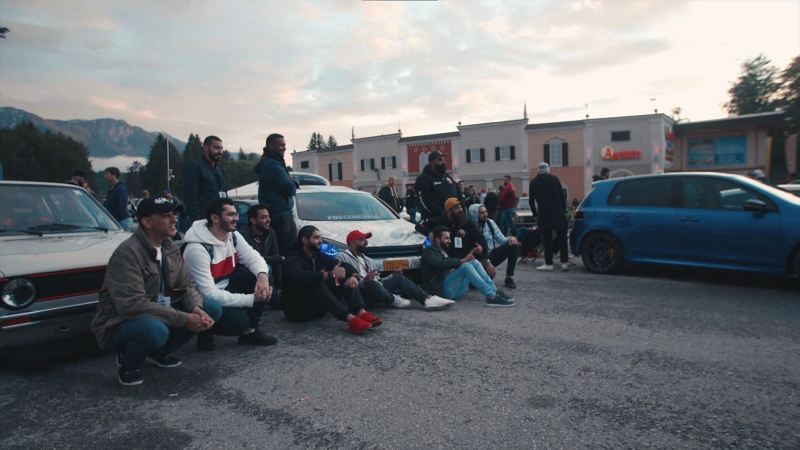 Once a year, the quaint town of Wörthersee Lake comes alive as tens of thousands of Volkswagen fanatics flock to the Alpine town for the legendary global automotive event, and this year was no exception. 
Exhibiting in a fully kitted container on the mainstage, 30 representatives from automotive clubs, dealers and Volkswagen Middle East teams displayed the region's knowledge and energetic passion for the brand. The Middle East contingent also met with Jürgen Stackmann, member of the Board of Volkswagen for Sales, Marketing and After Sales, to discuss the unified club community in the GCC and plans for Dub Drive GCC 2020. 
Now a long-standing tradition, it was back in 1982 when GTI fans first met in the Austrian town and since then Wörthersee Treffen has become a playground for generations of automotive aficionados, making the term "GTI" a worldwide legend.  
On a truly global stage and showcasing the biggest Middle Eastern presence to date, local club members had the opportunity to present their cars to international players and audiences from across Europe, Australia, China, Malaysia, Canada, South Africa and the US. A uniquely modified GTI featuring Polynesian tattoo art with one-of-a-kind fine tuning and bodywork from Oman, was shipped into the international event. Belonging to Muntaser Al Barwani from the Oman Volkswagen Club, the car was part of a 8 car line up on the main stage, offering great exposure for the Middle Eastern club scene. The team also featured a 45 minute interview on the main stage, where the renowned Dub Drive GCC 2020 dates were revealed. 
The annual event they create in the UAE, Dub Drive GCC, is a benchmark for other markets and I wish them all the success for further growth.


Member of the Board of

Volkswagen

for Sales, Marketing and After Sales
As the team displayed and demonstrated the true enthusiasm for the brand from the region, Jürgen Stackmann commended the region's success and growth through Dub Drive GCC and gave encouragement to continue evolving the automotive community through engaging events and the existing unified club culture. 

"Having presence from so many clubs in the Middle East at this gathering has been outstanding. Their passion and commitment to the brand is recognized globally as they presented themselves here this week in unity. The annual event they create in the UAE, Dub Drive GCC, is a benchmark for other markets and I wish them all the success for further growth, said Stackmann.
Wörthersee Treffen represents the global heart beat behind the Volkswagen brand. Deep dedication, unique passion and intense excitement is what brings automotive enthusiasts together from around the globe. Volkswagen Middle East, along with it's clubs and dealers are immensely grateful for the extraordinary experience of being able to represent the region to a global audience, and look forward to welcoming more international clubs to the region to attend the annual Dub Drive GCC on 7-8 Feb 2020. 
Mahmoud Al Sofyiani, the Der Volkskreis UAE club said, "It's been an exceptional experience showcasing the region to enthusiasts from around the world. We have gained relationships with clubs from many different countries and have been inspired by new ideas. We look forward to welcoming more international clubs to Dub Drive GCC 2020 where our region's unity will be brought to life."